RESERVATIONS BY PHONE ONLY - Do NOT Email Reservations
2021-2022 Business Tax Laws regarding Entertainment and Dining expenses are now 100% tax deductible. Consider Mia Madre Trattoria when Entertaining Clients.
About Us...
Dear Friends and Loyal Customers,
We trust and hope to find you well in this trying world of ours. We also trust that we can call on you for your continued support to help us through these tough times. Looking forward to hearing from you and seeing you soon - God Bless and Stay Safe - Al, Shari, and Staff...
Vieni a mangiare - Come and Eat!
Dining Info...
Indoor, Outdoor, and Takeout Dining Per PA Regulations

General Hours: Tuesday - Wednesday - Thursday: 4 PM - 8 PM
Friday and Saturday: 4 PM - 9 PM

Closed: Sunday, Monday

RESERVATIONS BY PHONE ONLY - DO NOT EMAIL RESERVATIONS

Restaurant Available for Private Functions - Sundays and Mondays
Contact Shari 412-766-6662 or Info@MiaMadreTrattoria.com

We Follow All CDC Guidelines and the Changing PA Requirements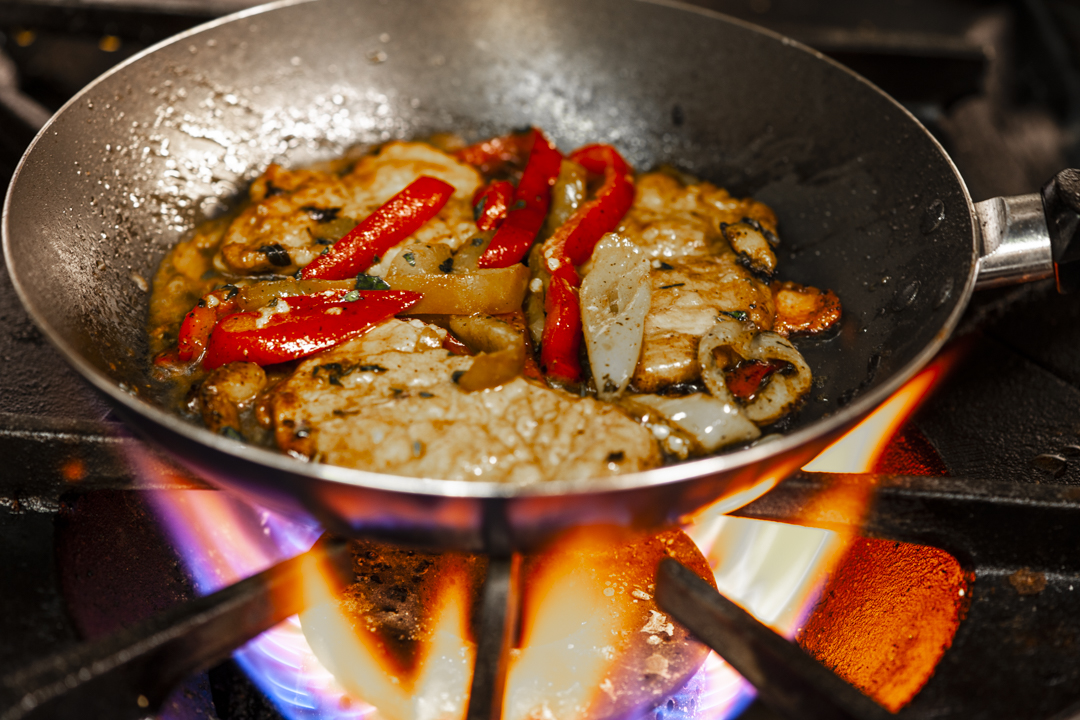 BYOB Pricing: Wine: $10.00 per bottle | Beer: $8.00 per person (Maximum 6 pack) Coolers larger than a 6 pack prohibited | Spirits: $8.00 per person - Includes non-fruit Mixers (Maximum 3 cocktails)
Our Menu
Thank You God and the Blessed Mother for their continued Blessings to me, my family, my staff, and all that pass thru our door.
Meatballs & Ricotta -

3 Fresh made meatballs, marinara & Imported Ricotta cheese

14

Madre Madre Pepper Loaf - Banana Peppers & Sausage mix baked under marinara & provolone

13
Thick sliced breaded provolone cheese
12

Greens & Beans - Sautéed escarole & beans with Olive Oil & Garlic

12

So good with Hot Sausage! 

16

Bruschetta Rustico - Italian bread topped with Olive Oil, Basil, Plum Tomato, Onion & Garlic

10
Fried Zucchini -

Thin sliced & battered Zucchini planks with marinara

12

Italian Chicken Wings - One pound lightly breaded chicken wings

Market Price

Sautéed Calamari - Tender squid, roasted red & banana peppers with marinara

Market Price
| | |
| --- | --- |
| Mia Madre - Tender garden greens with 3 plump shrimp, grilled chicken, bacon & bleu cheese | 19 |
| Italian Side Salad - Tender garden greens, roasted red peppers, northern beans & | 4 |
| Add: Crumbled Bleu Cheese or Anchovy or Feta Cheese | 2 |
Meatballs & Mushrooms
25
Hot Sausage & Peppers
25
Shrimp Parmigiano - 5 Breaded Pinks with Marinara and Provolone
25
Casserole Dishes ,Include Side of Pasta Marinara
Full Plates

Spaghetti or Fusilli Pasta in Marinara or Aglio e Olio

16

Alfredo or Aurora Sauce or Clam Sauce

8
Add to Any Pasta Dish

Meat Balls or Meat Sauce or Hot Sausage

6

Sautéed Shrimp or Chicken

8

Mushroom or Spinach or Broccoli

4
Quattro Formaggio Lasagna - Served with Marinara
22
Chefs Choice Ravioli - Served with Marinara
18
Gnocchi - Tender Pasta Pillows in Marinara
18
Pasta Calabrese - Sautéed Cod, Shrimp and Calamari with Marinara or Aglio e Olio
29
Spaghetti alla Puttanesca – Tomato, Olives, Roasted Peppers, Capers and Anchovy Aglio e Olio
22
All Pasta Plates Include Side Salad
Veal or Chicken Mia - Sautéed with Tomato, Artichoke and Spinach in a Lemon Butter cream sauce
28
Veal - Romano or Parmigiana or Piccata or Marsala
28
Veal & Roasted Red & Banana Peppers
28
Chicken - Romano or Parmigiana or Piccata or Marsala
28
Chicken & Roasted Red & Banana Peppers
28
Chicken Bruschetta - Sautéed with Artichokes Bruschetta Mix and baked Buffalo Mozzarella
28
Shari's Chicken - Sautéed with Northern White Beans, Garlic, and Roasted Banana Peppers
28
Sautéed Salmon - with Creamy Dill Sauce or Beans
28
Cod - Romana or Broiled or with Beans
28
Fried Shrimp - Fried
23
Seafood & Peppers - Cod, Shrimp & calamari Sautéed in Aglio e Olio or Marinara with Roasted Red Peppers & a few Banana Peppers
29
Eggplant Parmigiana - Hand Breaded and Baked with Marinara, Provolone and Mozzarella
24
Non-Pasta Entrées Include Side of Pasta Marinara
Sauce Choices
Romano Style - Egg and Romano Coating finished in a Fantastic Lemon Butter Cream Sauce
Marsala Style - A Fabulous Marsala & Mushroom Wine Cream Sauce
Piccata Style - Delicious Lemon Butter Caper Mushroom Sauce
Parmigiana Style - Italian Breaded Sautéed in Olive Oil and Baked with Marinara and Parmigiana
Aglio e Olio Style - Olive oil Sautéed Garlic, Seasoned Bread Crumb and Fresh Basil
Aurora Sauce - Marinara and Alfredo Blend
Add To Your Dining Pleasure
Sautéed Broccoli or Spinach with Olive Oil and Garlic
5
Italian Side Salad
4
Meat Sauce or Alfredo or Clam or Aurora or Aglio e Olio added as Pasta side
5
Split Entrées - Include Side Salad or Side of Pasta Marinara
6
If you believe all Pizzas are created equal... Forget About It - Utsa Madda You?
Hand Tossed Traditional Red Sauce Pie Cheese Pie

14"

16
Toppings
Pepperoni, Sausage, Mushrooms, onion, Spinach, Roasted Peppers, Banana Peppers, extra cheese
3 each
Meatballs or Chicken on your Pie
8 each
Great White Garlic - Roasted Garlic, Plum Tomato, Basil, Mozzarella & Provolone
22
Buffalo Chicken - Italian Breaded Chicken, House made Buffalo Sauce Provolone & Mozzarella
22
Hopa! - Kalamata Olives, Garlic, Olive oil, Feta Cheese, Baby Spinach, Provolone & Mozzarella
22
Tiramisu - Kahlua & Coffee drenched lady fingers chocolate & custard flan
6
Isabella's Holi Cannoli - Made to Order… Sweet dough stuffed with special recipe made with imported ricotta. One end dipped in chocolate chips other end in cashews drizzled with chocolate syrup and powder sugar
6
Limoncello Cake - Moist Limoncello Cake with Mascarpone & White Chocolate
6
Soft Drinks - (Complimentary Refill)
3
Aqua Panna Italian Spring Water - 1 litre
6
Coffee, Decaf Coffee (Complimentary refill)
3
Espresso - A must have with our Delicious Desserts
Single  4
Double 6
Cappuccino - A double espresso with a frothy head another must with our delicious desserts
6
BYOB Corkage
Wine - Per Bottle
10
Beer - Per Person (Coolers larger than a six-pack prohibited)
8
Spirits - Per person – Includes non-fruit Mixers (3 Drink Maximum)
8

Please Consider A Cash Gratuity

20% gratuity will be added to Parties of 8 or more requesting separate checks

Due to current product availability and rising cost - menu pricing may vary
REMEMBER US FOR ALL YOUR CATERED EVENTS
Our Menus are provided here for your convenience, Please download.

Dinner & Takeout Menu with Pricing
You will need Adobe Reader to view this document. Download a Free version of Adobe Reader.

NOTE: Menu and Wine Prices are subject to change.